Activities
Colloquium ARCHITETURAL CRITICISM, MEDIAS AND MEMORY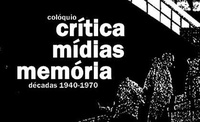 ARCHITETURAL CRITICISM, MEDIAS AND MEMORY is a colloquium to be held on 13?14 September 2022 at the office of the Council of Architecture and Urbanism, Rio de Janeiro session (CAU-RJ). The meeting is provided by the research History of Architectural Research of the Laboratory of Architectural Narratives of the Post-Graduate Programme in Architecture of the Federal University of Rio de Janeiro (FAUUFRJ). It is dedicated to the historiography of architectural criticism and will gather researchers of universities in Argentina, Brazil, Colombia, France, Germany, Portugal and Switzerland.
The colloquium will occur in a hybrid mode (presential and online). The registration is free of charge.
The virtual room with simultaneous interpreting and the certificates for listeners will be available to participants who make their registration through the online form.
For the full event programme, visit our website: criticamemoria.org