Activities
From theoretical reflection to procedural photographic practice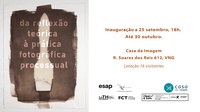 The exhibition 'From theoretical reflection to procedural photographic practice' presents the results of the Project with the same name developed in the the framework of the collaboration between ESAP/CEAA and Casa da Imagem.
The objectives proposed for this project are now reflected, in this exhibition, through the work of historical framing and theoretical reflection on the photographic processes of the 19th and early 20th centuries, understood today as alternatives; from the transition to laboratory practice of these processes through a current and adapted methodology, enabling the creation of clearer and more operative instructions for pedagogical purposes and, finally, the realization of the production of artistic work whose results are publicly presented here.
Exhibition Organization: Alexandra Trevisan, Inês Azevedo, Felipe Argiles, Joana Mateus and Rui Lourosa.