Activities
Provisional ordered list of candidates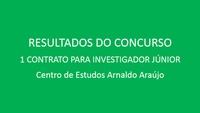 RESULTS OF THE CALL FOR 1 CONTRACT OF JUNIOR RESEARCHER
Result of the assessment of applications submitted under of the international selection tender procedure for the attribution of 1 (one) work contract vacancy to a junior researcher in the framework of the Contract Program signed between the Cooperativa de Ensino Superior Artístico do Porto and the Fundação para a Ciência e Tecnologia for the Centro de Estudos Arnaldo Araújo (programatic funding ref. UIDP/04041/2020) – Ref. CEAA/2020/C1 - Aviso 13824/2020.
Provisional ordered list of candidates admitted to the competition:
1st. Rute Maria Pinto Figueiredo Lima da Veiga
2nd. Luís Miguel Rodrigues Moreira Pinto
3rd. Luciane Scottá
Candidates not admitted to the competition:
Berfu Güley Gören Soares
In accordance with point 11.1. of the Call Notice, after notification of the results, the candidates have, if they wish so, 10 days to submit an appeal on the deliberation of the Jury.