Activities
All the dreams of the world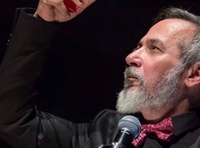 All the dreams of the world
Following the Portuguese-Brazilian colloquium Inclusive Art? Who includes who?, it will take place at the ESAP Auditorium a play performed by the Brazilian company Satyros, featuring Ivam Cabral.
The event is for the ESAP academic community and the participants of the colloquium..
The play written by Ivam Cabral and Rodolfo García Vázquez (who signs the direction) addresses issues related to depression, on a confessional basis and based on works by Brazilian and foreign poets.
October 11th, 21:30
Free entry
Organization: ESAP: Theatre degree and CEAA - Arnaldo Araújo Research Centre