Activities
A HEAVY BLOW OF A ROD ACROSS THE FINGERS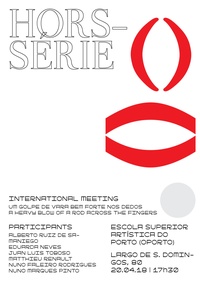 INTERNATIONAL COLLOQUIUM
A heavy blow of a rod across the fingers, as mentioned by Pinel in the eighteenth century with regards to the warning made to the madmen who did not have a submissive and docile behavior, at a time when animality was meant to be tamed. Between asylum and factory, private life and public space, the everyday, it is bodies and places that we still want to discipline and serialize. In the light of the three theoretical axes that frame the exhibition project, we propose to reflect upon the following issues:

[A] Which are the resistances of the imaginary that art can still build? How to stay away from the order of the city, from the law? How can we open the door to a kind of inattention (that outside of something, that hors) so that in it we can build other ways of existing? How do we presently organize the multiple? What instruments do we use to dominate it?

[B] What is the place of work in contemporaneity and that of the body in its radical unproductiveness, according to Deleuze and Guattari? How can we understand the body as non-negotiable resistance and unavailable strength? Which economic framework is valid, nowadays, as a principle of enrichment and imposition of an order? To which moral syntheses should we resort? How much is paid time worth?
Organization: Eduarda Neves